#1 remedy for prickly heat
and other various skin rashes and irritations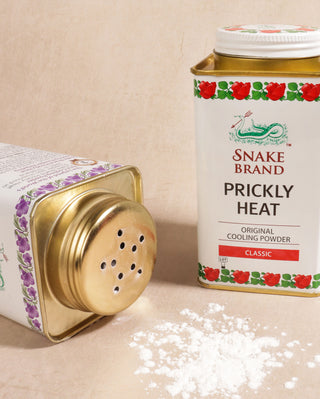 Why you should use Snake Brand
Our products can be used to soothe a wide range of irritable skin conditions as well as to freshen up during warm conditions.
Perfect to use after exercise, swimming or taking a shower.
From calming insect bites to preventing skin chafing and relieving most rashes, Snake Brand is a bathroom cabinet must!
"I was pleased how it stopped me coming out in the itchy nasty looking spotty rash I normally get. It also went away a lot quicker than normal. If you suffer from prickly heat I would definitely recommend it. It certainly calms it down and it's cooling too!"
"I can honestly say this was the best purchase! I now fully rely on it. Any time I feel heat rash coming on, I just apply the powder to the area, gently rub it in and within 1 minute I feel the soothing and cooling sensation and no temptation to itch or irritate the area, no soreness, nothing!"
"It's got a great cooling effect that really helps in hot weather. Much better than regular talc, and it smells great too."
"I picked up Snake Brand Powder in the hopes that it would solve my problems. I have to say, it works really well and has a nice scent. My skin would be sensitive and I experience no problems at all. The tingle you get when you put it on is quite pleasureable."
"Sprinkle a little in your socks to keep your feet dry, fresh, and feeling cool. Lower back and in your underwear are also good options. Yes, seriously!"
Follow Us on Instagram @SNAKEBRANDUK